i figure in a day and time saturated with crappy reality shows, my life is as good as any... here goes.
So here's my first blog from my new Dell Mini 9 netbook. I must say that I have decided to run OS X instead of the default Korean version of windows XP that came on this little computer. I wanted to take a few moments to post about my experiences in the past 3 or 4 days.
I was excited to see (before I received the computer as a gift) that the mini 9 is one of the easiest computers to load OS X onto. There are many ways to do this all laid out for you on the
osx86 forum
and on the
mydellmini
site. Of course I chose to go with the full purchased*
retail version of leopard
for my install. I used 2 usb thumb drives and my Macbook Pro to create download and create the necessary files. While I thought about going through everything step by step, there are plenty of sites that detail how to do this. What I would like to say about the process: Very simple. The longest point of the entire process is copying the leopard dvd to a 8gb thumb drive. After that, there's no patching or fuddling around needed.. just downloading a small file and you're off and running with leopard in about 40 mins. TOTAL.
Experience. As an avid computer user not just personally but also professionally, I found carrying my 15" Macbook Pro a bit tedious to say the least. I've owned a 13" Macbook, and that was a bit more pleasant. The primary challenge however is: when does size affect portability. Let me rephrase it this way... How often and at what point do you decide to leave your computer at home because of its size? Often for a 15" laptop. I also have an iPhone that I would use instead, however for any extended computing, that obviously is not very practical.
The mini 9: It's about the size of an average paperback book, which makes throwing it in a backpack or just carrying it in your hand quite easy to do. The 3 hour battery life is pretty good and I have no problem between charges. The biggest challenge to the mini is the limited size of the flash hard drive.. Using the 8gb hard drive with my basic programs install leaves me with about 500mb free. Not much extra space, but I've also popped in a 4gb sd card for extra storage. And because I subscribe to
MobileMe
, and use other great programs like
Simplify Media
, I'm okay keeping my Dell fairly bare. But there is yet another solution: Dell has taken care of this with newer models sporting 32gb... you can also
order 32gb for about $115
and self install is a snap.
The challenge that I see many people having is the Dell Mini is NOT designed to be anyone's primary computer. It barely makes good as a secondary computer.. but if you're looking for super portable full computer power (minus the drive) the Mini takes the cake. I know I haven't tried any of the other netbooks, but I'd imagine that the general impression would be the same.
Biggest problems: Being 6'2" 190lbs w/ a bmi of 24.4 (
which puts me at borderline over weight I just found out
) the mini keyboard is a bit of a hassle... I'm getting used to it.. but I do find my borderline over weight fingers hitting multiple keys on occasion, or my borderline over weight palms skimming the trackpad and find my curser up 4 lines. The size of the screen: 9" while in some contexts might be considered more than adequate, take some getting used to as well... and those of you moving from 17" laptops or 20"+ monitors... it'll seem like someone someone tore off a corner of your monitor and slapped a keyboard on it...
In conclusion: No a netbook is not a good primary computer... and I'd slap you if you tried. But if you find yourself constantly saying "damn, I wish I had a computer and I wish mine wasn't so heavy" or even if you don't find yourself saying that.. the base netbook, for $350-ish (depending on options) is a great little start. Again the challenge for many people is the fact that they're going to find themselves demanding 15" Macbook Pro performance from their Mini.. and if you can keep reminding yourself that this is a netbook... you'll be in love.
Another practical note: I just looked at this standard size coffee table at starbucks and noticed... wow.. I have a lot of extra space. Normally my Macbook Pro would cover most of the table... Hmm another plus..
It's pretty amazing how time flies by. It's already 2009... So much has happened this past year. One this that hasn't happened much is blogging. I've spent time away from blogger trying to figure out why it is I blog, why it is I write. And on December 29th I figured it out. I was sitting in Starbucks (which is where you'll most often find me) and was looking through posts from the past two years.. Wow, it's amazing how blogs can mark time for us. This time last year we had just finished up the road trip, battled a blizzard outside of Seattle and won, and Elliott began considering moving to Korea. Blogging is a great way to keep track of our memories, at least for me. This next year will be pretty amazing. There are so many things to work on, so many things to start, and many things to continue and improve.

This is a great place to track it all.

2009
Law school starts this year...
I leave Korea this year...
I turn 28 this year...
The US gets its first minority president this year...
I will study harder than I've ever studied this year...
I will work more hours then I knew existed this year...
I will make my parents proud this year...
I will be a better friend this year..
I will be a better brother and son this year...
I will make new friends this year...
I will sacrifice for old friends this year...
I will give more this year...
I will hurt more this year...
I will live more this year...
I will seek more this year...

Here's to 2009.
Being the self professed technology "geek" that I am... I have found South Korea's lack of free wifi quiet saddening. Seoul in particular, if jam packed with coffee shops galore. There are literally dozens stacked on top of each other, while major chains such as Starbucks and TOMNTOMS have upwards of 6 or 7 within a few mins walking distance.
The challenge is, many of these major chains don't offer free wifi, and many of the littler chains that do offer free wifi also serve beer. Have you ever tried to read a book or study in a packed coffee shop that serves beer? (maybe something for law schools to consider!)
Either way, yesterday I was told by a friend that Starbucks and Google, the infamous search giant have teamed up to offer free wifi Korea's Starbucks. (Wonder why Google would do such a thing? 4% market share). Anyways, I haven't tried it out yet, but you'd better believe I will...
Here's a link to the
story
From
flickr
1 comments
So I was watching TV the other day and ran across a documentary. There was a person interviewing a 6 year old chinese kid who looked like a miniature Mr. Olympia, obviously I paused to watch a moment. It appears that this kid is somehow related to superman... The interviewer has the kid flex a few times and then has the boy start doing pushups. Let me tell you, when the counter hit 100, I was impressed. 200, I was speachless. 500, I thought, this has to be a joke. 1000, Yea... at 2200 push ups (all of which, mind you, are being video taped and counted on a hand held counter by the interviewer) the interviewer asks the child if he'd like to stop because he looks tired. The child insists he's fine, the interviewer tells the child there's nothing more to show, everyone's impressed and he could quit. The child hesitantly states that he will simply do a few more and then stop. When the interviewer asks "well how many more?" The child responds, "maybe 1000?" The child went on to do over 3500 total push ups. So I googled around and found an article about the child. Now while the article might give rise to skepticism, I know that the boy can do at least 3500 in just over an hour. There's gotta be a video of this online somewhere... the documentary was in Korean... So I'll continue scouring the Korean video sites... If you find it let me know!
The article:
Lu Di, 6, flexes his muscles as other young kungfu students watch at a kungfu school in Central China's Henan Province July 26, 2006. According to school president Shi Yongdi, Lu did 10,000 pushups in three hours and twenty minutes four days ago. Since he shows so much promise, Shi says the school will waive his tuition for ten years.
http://english.peopledaily.com.cn/200607/28/eng20060728_287677.html
-------------
So it's been a pretty exciting week here in Seoul, with the olympic spirit in full swing, Koreans are practically glued to their television sets. At the top of the list might be Korean swimmer Tae-Hwan Park who nabbed Korea's first ever Olympic gold in swimming.
Next you've got the crazy soccer games (two of which I've caught). It seems like every discussion I've had with my debate students ends up a conversation about the olympics.
For those of you who can't keep your faces glued to the tube, here are a couple of medal count links you might find helpful:
This
first one is courtesy of the infamous Yahoo,
whose board of directors is still in tact btw. It ranks based on total number of medals.
This one is the official count by the
Beijing Olympic Website
and ranks based on number of gold medals.
Finally, I just wanted to throw down an excerpt of a pretty interesting article I read on ESPN.com

No way met no quit.

"I changed," he said. "I thought, 'That's ridiculous. I'm at the Olympic Games, I'm here for the United States of America. I don't care how bad it hurts, I'm going after it.'

"I just got a super charge."

What transpired during the final 50 meters was the stuff of Disney movies. It was the kind of thing that should land Lezak a co-starring role with Phelps on cereal boxes and network morning shows. And if Phelps does complete the great eight and pocket a $1 million Speedo bonus, he should cut a check for one-eighth of that total to the guy who kept the quest alive: Jason Lezak.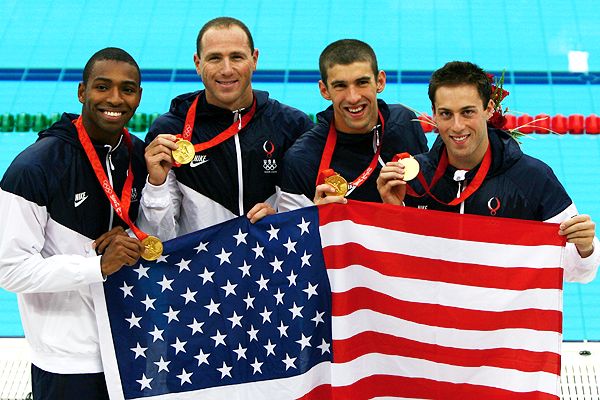 It's a great piece to give you a jolt of patriotism...
ESPN ARTICLE
And last but not least... I'm going to be kick'n it with
Scholar Jon
and
Big EZ
this weekend. Should make for a good time.. I'll also get the new camera I ordered.. so hopefully I'll have some very amateur pictures to throw up on my newly created flickr account... See you soon!
Just a quick post today.. I went into the gym this morning to do a little iron pumping, since rockstars guns are bigger than mine. And and as I checked in at the front desk I could faintly hear the music coming from the mens locker room... Hmm, that' interesting I thought. I know I've heard that melody somewhere.. Well, as I made my way into the locker room the song was unmistakable..
It's Raining Men
by The Weather Girls. What I wasn't prepared for were the 5 undressed men standing around the locker room all singing the song. Welcome to Korea!
Older Posts